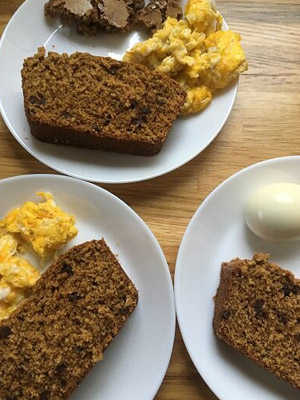 Ingredients Needed:
3 cups whole wheat flour (I used freshly ground wheat, AP will work too)
1 – 1 1/2 cups sugar (I like the cane sugar but sucanat or regular sugar does fine too)
1 teaspoon baking soda
2 teaspoons baking powder
1 teaspoon sea salt
1 teaspoon cinnamon
1 tsp nutmeg
1 tsp cloves
4 eggs
2 cups pureed pumpkin (or one 16 ounce can)
1 cup melted butter (or evoo)
1 cup chocolate chips (optional)
In a large mixing bowl, stir together all dry ingredients.
Add eggs, pumpkin and oil. Mix well. Fold in chocolate chips.
Muffins: 400° oven for 16-22 minutes
Loaf: Bake in a 350° oven for 45-60 minutes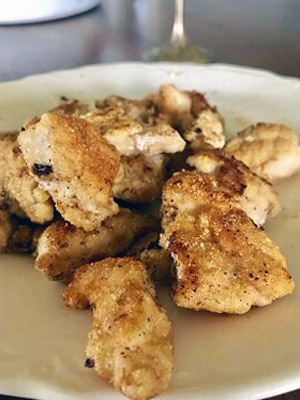 Davis used a whole chicken. She removed the meat from the legs, breast and tenderloin, detaching the wings from the bird but keeping them intact.
Ingredients Needed:
one whole chicken
1/2 – 3/4 cup flour (we use freshly ground but AP works too)
1/2 corn mill (we grind ourselves, its just corn)
1 teaspoon sea salt

Mix well.
Heat a 12" cast iron pan on medium heat with approximately 1/2 cup evoo (extra virgin olive oil). She doesn't remember the amount but you can add more if needed. 🙂
Once you have cut your chicken into bite size pieces you can then rub a little evoo on the chicken before dredging into the flour mixture.
Once the cast iron is hot add the chicken pieces into the pan. Cook until golden, flip repeat. Once they are finished add to the plate and serve to your family. Today we had the nuggets with her Honey Mustard Dip, salad (romaine, cranberries, sunflower seeds and our homemade blue cheese) and apple slices.
Chicken feeds 1 adult and 4 children for lunch.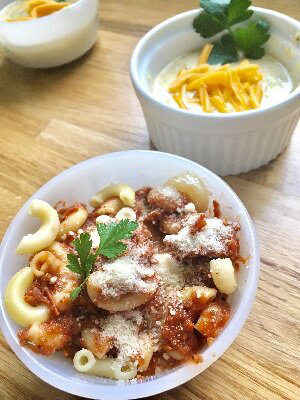 A few Sundays ago I wanted to make a soup for lunch. Davis heard what I wanted to make and wanted to make her own. I thought we could have some fun with this and have a contest. It's not completely fair when they aren't the same soup, no. But to have fun on a Sunday afternoon in the kitchen, worth it. My strong, creative daughter and I spend an hour working on our creations. In the end. the Broccoli Cheddar soup won. I feel like we will have plenty more contests in the future.